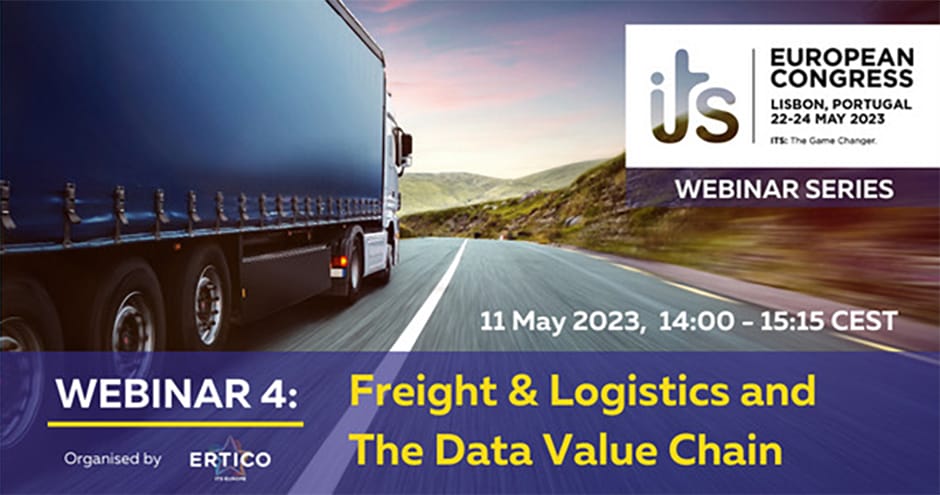 The fourth and final webinar of our series ahead of the 15th ITS European Congress will combine the remaining two topics of the Programme: Freight & Logistics and Digitalisation & the Data Value Chain.
This important topic will be represented in the Congress programme through various Special Interest Sessions and Paper presentations. Of course Lisa Boch-Andersen, Congress Director, will give a last update on the upcoming Congress in Lisbon.
Some of the subtopics discussed will include:
Best practice implementations; Policy, standards and harmonisation; Greening of freight and logistics chains; Data processing and energy efficiency; Truck Platooning and other future logistics modes; Last-mile distribution and delivery in cities and suburbs; Integration of ports and cities; Multimodal freight services; Digital logistics platforms and Logistics as a service; Paperless vehicle and load tracking; Positioning, timing and navigation systems; Data-ownership, privacy & security; Data Analytics and handling Big Data; Open data platforms, etc.
Join us on Thursday 11 May, 14:00-15:15 CEST, to take part in this interesting discussion and hear about what awaits you at the ITS European Congress in Lisbon!