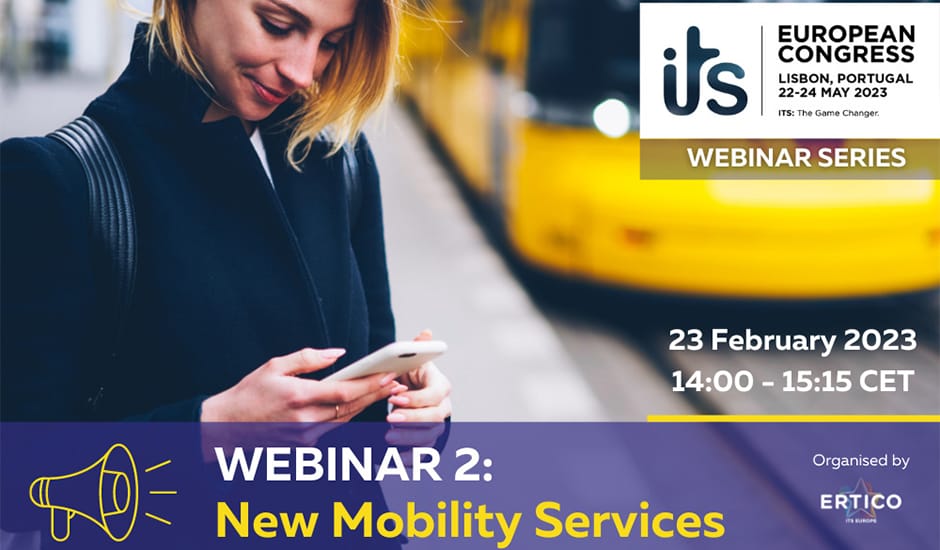 Following the great success and interest in the first webinar on the topic of CCAM, the second webinar of our series in anticipation of the 15h ITS European Congress will be on New Mobility Systems.
Some of the themes covered on this topic at the Congress will include the integration of services, modes and sectors; lessons learned from MaaS deployment; new-mobility opportunities, expectations and accessibility for all; and measuring the impact, particularly on the quality of service and in meeting climate targets; skills development, changes to the workforce, jobs and society, etc. Congress attendees will also hear about new business models and start-ups.
The webinar on 23 February, Thursday, will give you a preview of what the Lisbon Congress will offer on this topic. The webinar will be hosted and chaired by Lisa Boch-Andersen, Director of Communications, Congresses & Events at ERTICO, who will also provide an update on our preparations for Lisbon. ERTICO CEO, Joost Vantomme, will introduce the strategic significance of the topic. John Paddington, Senior Manager of Innovation and Deployment at ERTICO, will moderate the panel discussion.
During the panel session, Petra Soderqvist, Policy Officer from the European Commission's DG-MOVE, will present what is in the Commission's pipeline for multimodal transport in 2023. Dr Oihana Otaegui, Head of ITS and Engineering at Vicomtech, will talk about the challenges and opportunities for new skills development, especially in terms of new mobility services related to CCAM. Oscar Mellegers, Director Product Management at Verra Mobility, will talk about what can be achieved through the integrated offerings of some of their new solutions. Franco Rosso, Sales and Business Development Manager of ioki – a DB company, will focus on the role of demand-responsive transport services in strengthening public transport systems. These will be among the examples shedding a light on what can be achieved, or needs to be addressed, through the integrated offerings of some of the new mobility innovations which will be present at the Lisbon Congress.
Join us to take part in this interesting discussion and hear about what awaits you at the ITS European Congress in Lisbon!